About

Nathan Cole

Hi, I'm Nathan. I help violinists and violists play the way they've always dreamed. I'm also First Associate Concertmaster of the
Los Angeles Philharmonic, and I teach at the Colburn Conservatory. I've been teaching online since 2001.

VIEW COURSES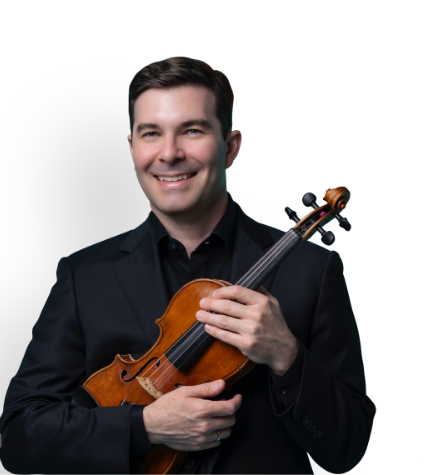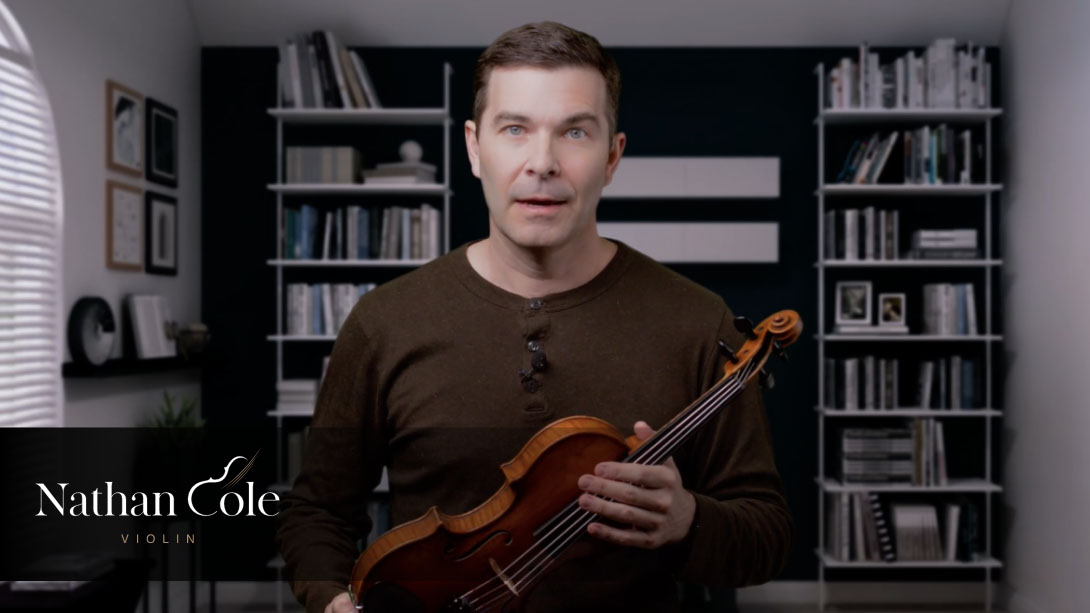 How I Got Here
1978
I grew up in Lexington, Kentucky, and both my parents were flute teachers.
Most of their friends were musicians too, so I assumed that everyone played an instrument. Eventually I asked what my instrument was, so when I was four, my mom took me to a group music class called "Suzuki".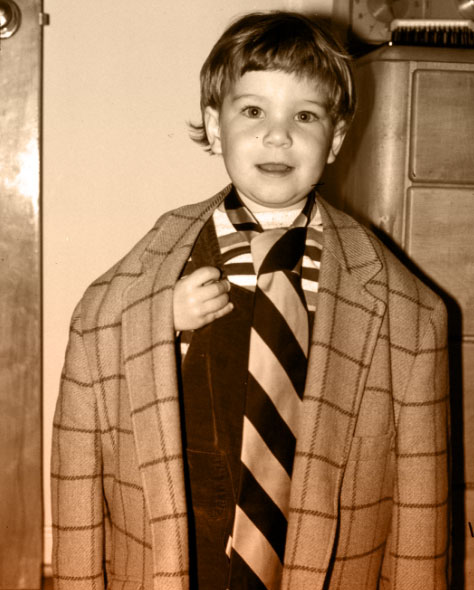 1989
By The Time I Was 11, I Started Attending Summer Programs For The Violin, "Music Camps."
There I finally met other kids from around the country who played as much violin as I did. But while I was still practicing just an hour a day, some of these kids were putting in four! And when I heard the pieces they were playing, I started to understand why.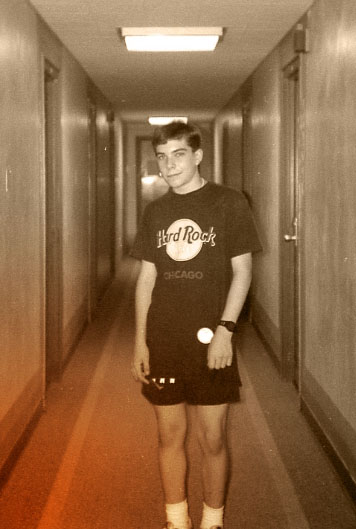 1982
I never liked practicing very much, but I loved playing the violin.
I liked the fast songs best, but I got frustrated when I didn't sound the same as the person on the Suzuki record. Luckily, my parents were just as patient with me as they were with their flute students. So was my first teacher Donna Wiehe, who taught 80 half-hour lessons each week!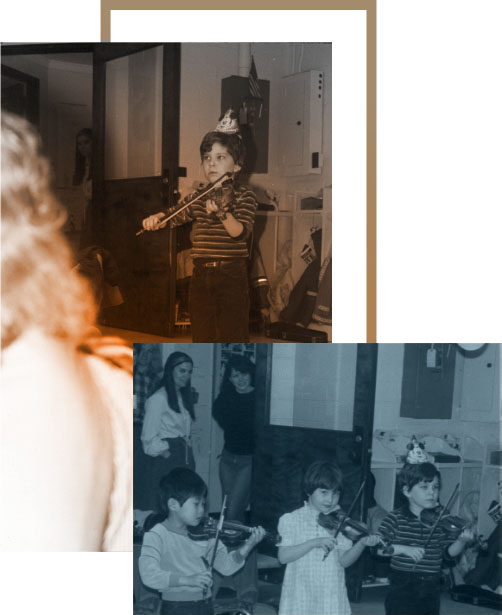 1993
It Was Time To Say Good-Bye To Mrs. Wiehe, Who Passed Me Along To The Professor At The University Of Kentucky, Daniel Mason.
He had studied with the great Jascha Heifetz (although that didn't mean much to me yet!) All of a sudden, things got a lot tougher. I was playing more difficult music, "grown-up pieces" as Mr. Mason liked to say. I still disliked practicing, but I gradually got up to two hours a day.
1993: Things got more serious when I was 15. At that point I had to choose whether the violin was something I really wanted to do in college, and perhaps for the rest of my life. And that summer, I heard a major orchestra for the first time: the National Symphony, during a summer camp in Washington, D.C. I still remember sitting in the balcony, listening to the slow movement of Dvorak's New World Symphony. For the first time, I could see myself on that stage, and I knew that if I kept putting in steady work, I could make it happen.
Meanwhile, in high school, I found myself teaching my fellow students… not violin, but math, English, physics, you name it! Usually when someone came to me for help, there was just one piece of information they were missing, one key thing they didn't understand… and then they'd be unstuck and good to go. I couldn't rest until that happened (I wasn't always the most popular kid in school)!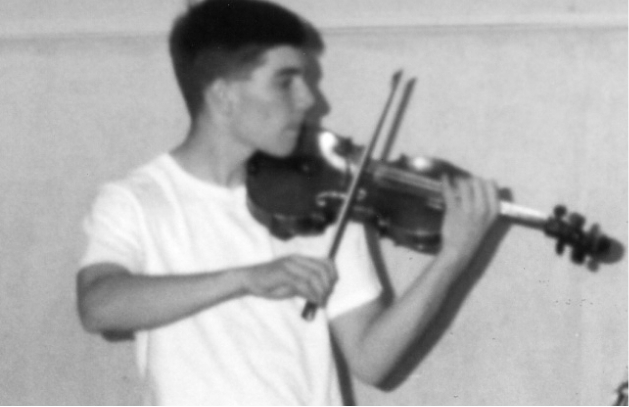 VIOLIN
1995
Music School, Or Conservatory, Was The Logical Next Step, But To Get There, I Would Have To Put Together A Big Audition Program:
Two concertos, solo Bach, a Paganini caprice, even scales!
This may not have been a big deal for the four-hour-a-day kids, but it was the biggest project I had ever taken on. That was the time I discovered the tape recorder, and the great things it could do for my playing (along with the terrible things it could do for my ego!)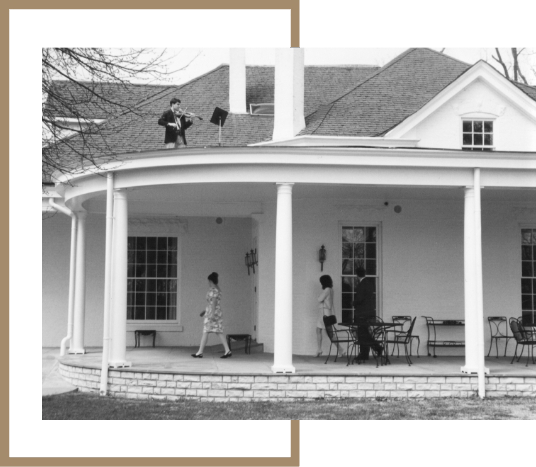 1996
When I Arrived At The Curtis Institute In Philadelphia, I Realized I Had Some Catching Up To Do.
My days of practicing two hours were over! And so were my days of learning from a patient teacher who would tell me how to practice. My four teachers at Curtis (Pamela Frank, Felix Galimir, Ida Kavafian, and Jaime Laredo) were all outstanding artists, but they weren't going to spoon-feed me. They weren't much concerned with my practice process, just the weekly results. And they weren't shy about expressing their displeasure when I came up short. Luckily, I discovered chamber music at Curtis. String quartet playing, in particular, was just the outlet I needed any time solo work got too frustrating.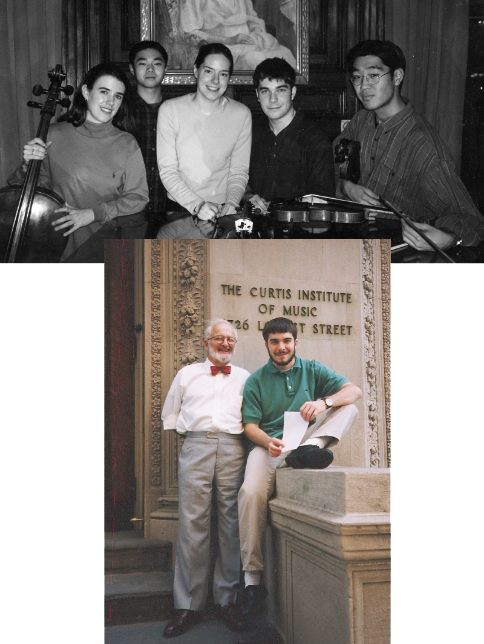 2000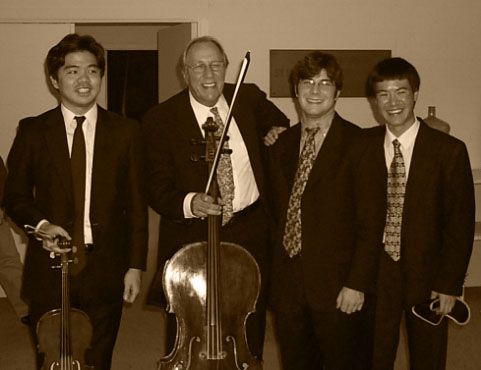 Eventually, If I Was Ever Going To Play In An Orchestra, I Would Have To Win An Audition.
And my first one was for the "local band", the Philadelphia Orchestra. Although I practiced five hours a day for a month, and the first round went well, it all came crashing down in the semi-final round. My preparation had been totally insufficient. I didn't even know what I didn't know! But I was determined to find out, and I still am.
I Won My Second Audition, For Principal Second Violin Of The Saint Paul Chamber Orchestra.
And as I settled into my new job, I thought about writing on that thing called the Internet. My website, natesviolin.com, went live in 2001 and started as a kind of public practice journal.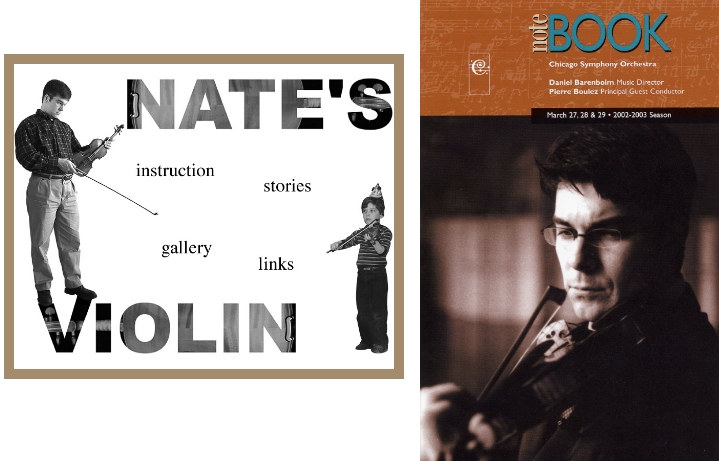 2004
My Other Big Adventure Started Just A Few Years Later, After I Moved To Chicago To Join The Symphony There.
I met my wife Akiko, who had just moved to the CSO from the LA Philharmonic. Technically, we'd met years before, and she would tell you that I was a know-it-all with a "bowl cut" back then… but times and haircuts change, and this time we got married.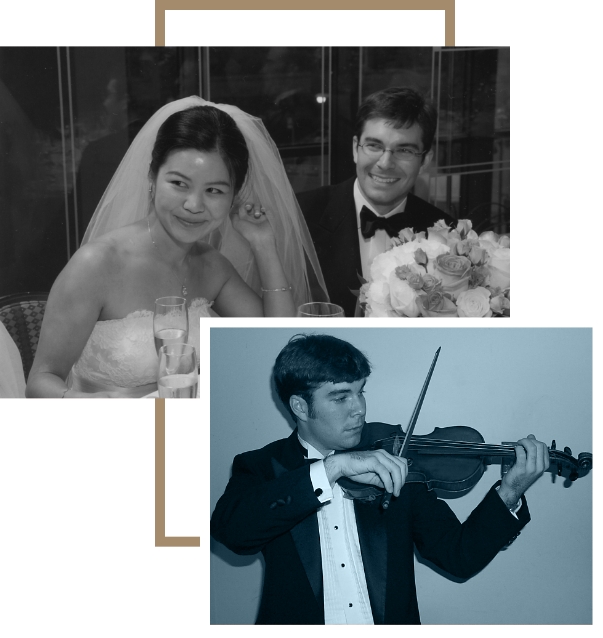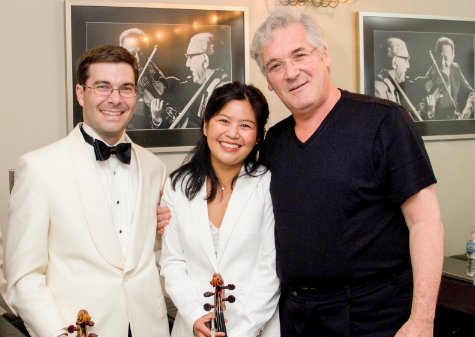 We Both Got A Little Restless In Chicago
(although I didn't go "shoulder-rest-less" until a few years later) and so it was time to hit the auditions yet again. I joined the LA Phil as First Associate Concertmaster (a fancy title for second chair), and Akiko rejoined the section after a must-win screened audition. She's now Assistant Concertmaster (or fourth chair). Yes, we still talk about "chairs", years after middle school!
2011
I Put My First Video Online In 2011, The Same Year We Moved To LA.
Three kids later, Akiko and I now live in Pasadena, home of the Rose Parade. I still make videos, and Akiko still rolls her eyes at my video backgrounds. She even lends a hand in my most exclusive program, the Virtuoso Master Course!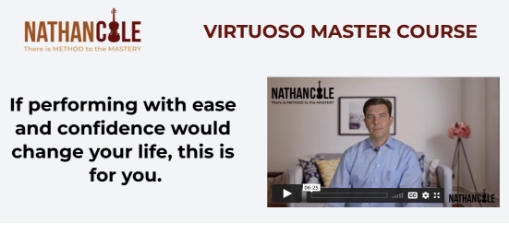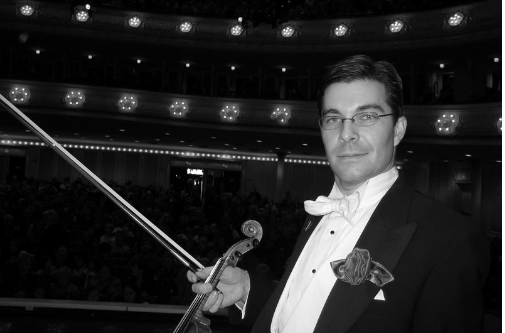 Now That You Know How I Got Here, Let's Figure Out Where You Go From Here.
Nothing can stop you except the limits of your own imagination. So if you need a helping hand, reach out to me here. I can help you play the way you've always dreamed.
TODAY
Now That You Know How I Got Here…
My learning about calculus and chemistry may have hit a wall after high school, but I've never stopped discovering new things about the violin. And I still feel the same way about roadblocks now as I did then. With the right piece of information at the right time, there isn't a player on the planet who can't get unstuck and reach their next level.
And I can't rest until that happens for you. Get in touch with me here, and discover how I can help.
Contact me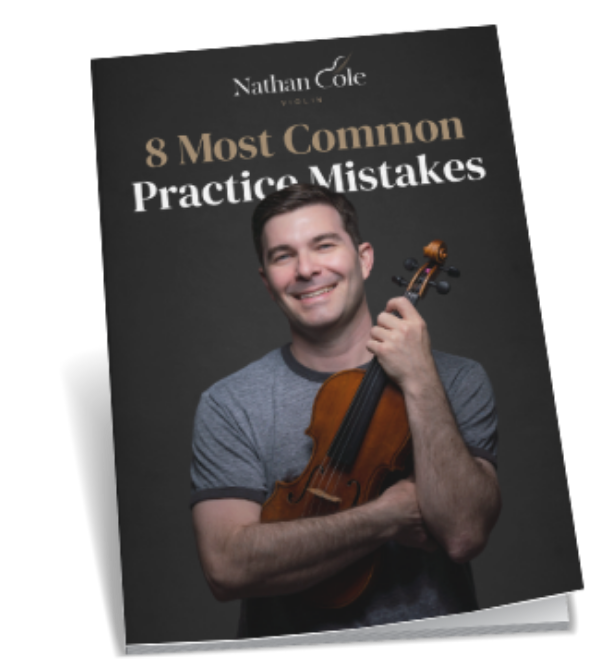 Free Guide:

8 Most Common Practice Mistakes

If you're making any of these mistakes in the practice room, you could be killing your progress and wasting your hard-earned time. Here's what to do instead: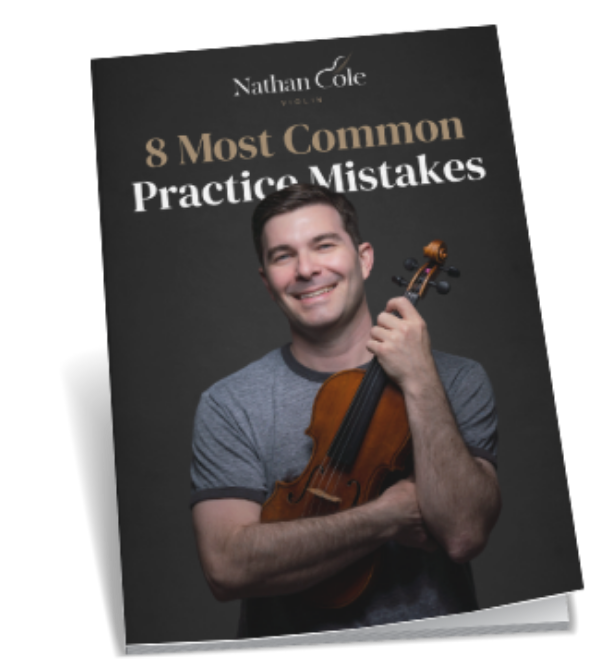 DOWNLOAD FREE GUIDE
Free Guide